Travel TV Shows
Disclosure: The links on this page are "Affiliate Links" and while these are shown at no costs to our viewers, they generate commissions for our website(s)
Missing Travel? These TV Programmes Will Transport You From The Comfort Of Your Armchair
With travel restrictions and concerns about COVID transmission looming large, travel is off the agenda for most of us right now. But you can still broaden your horizons by travelling from the comfort of your armchair – these specially selected TV programmes will whisk you away – and broaden your horizons – without having to worry about masks, social distancing or sanitiser!
Discover More About Scotland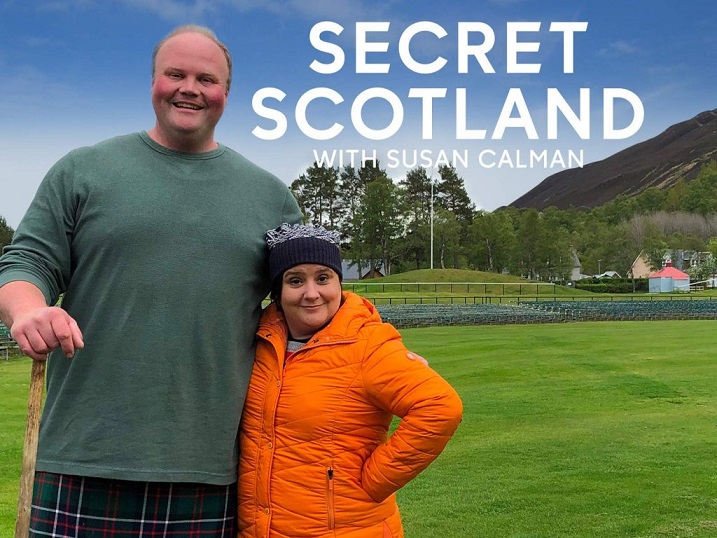 Susan Calman has just completed series 3 of her Channel 5 programme 'Secret Scotland', which was filmed under COVID-19 protocols, however, it still feels fun, warm, and natural due to Susan's down-to-earth and approachable style.
Susan transports us to some of the lesser-known jewels of Scotland, starting with a canal boat trip in Falkirk and the Lothians, and ending up in the stunning Isles of Lewis and Harris in the Outer Hebrides in the final episode. Along the way she visits Traquair House, which hosted Bonnie Prince Charlie; helps with feeding time at Edinburgh Zoo; fulfils her need for speed at the Mull Rally; and takes a breath-taking journey to Fingal's Cave. Her enthusiasm for her home country shines through, as well as her genuine likeability – the sheer glee she displays when allowed to sit on a historic bed, or when she's given privileged access to a private (or secret) place is a joy to behold.
You will feel like you know Scotland (and Susan!) much better after watching this show.
Available on My5.
Discover The World With A Social Conscience
Author and presenter Simon Reeve makes travel documentaries with a social conscience. In his 'Around the World' series for the BBC, he makes extraordinary journeys and meets fascinating people in a way that demonstrates the stark divides between beauty and strife, wealth and poverty that exist in many parts of the word.
In the Indian Ocean, he sees the contrast between the tourist paradise of the Maldives and the war against piracy; in Turkey, he visits the iconic city of Istanbul, the beautiful Aegean coast, as well as the troubled border with war-torn Syria. Simon visits parts of countries that are not often seen on television, such as spending time with indigenous reindeer herders in Russia and visiting some of the most dangerous places on the planet during his travels around the Caribbean. He also challenges perceptions of more well-known places – during his journey around the Mediterranean, he lifted the lid on the tourist veneer and discovered a few surprises – such as the fact that Benidorm, long associated with the 'Brits abroad' stereotype of lager and full English breakfasts, may actually be one of the more sustainable models for mass tourism!
Whether he is learning about the roots of the Rohingya refugee crisis in Myanmar or exploring the sacred rivers of the world, what shines through most is Simon's humanity and humility. Sincere and articulate, he is never patronising and will challenge your perceptions as well as opening up new corners of the world.
Available on BBC iPlayer.
Learn About Ancient Greece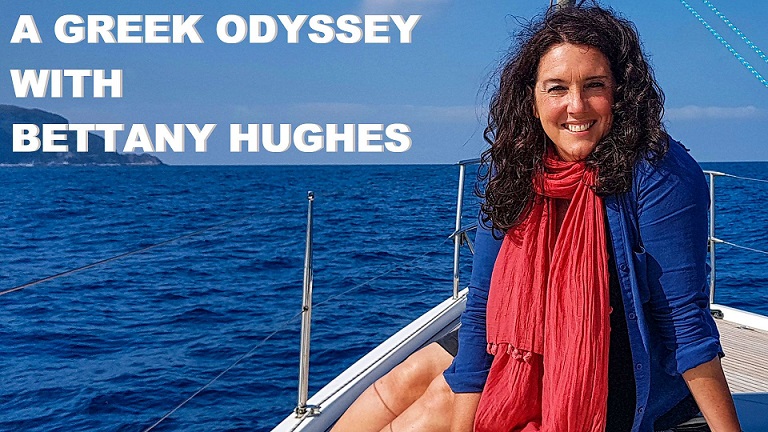 In Channel 5's 'A Greek Odyssey with Bettany Hughes', the acclaimed historian and classicist embarks on her own Odyssey, exploring Greece from the time of the Ancients right up to the present day.
Bettany's love of Greek history shines through, but this is no dry academic lecture – as well as being educational, it is highly entertaining at the same time. She is a great storyteller and really brings Ancient Greece to life, and her interactions with the modern-day Greek people she meets on the way are equally fun.
She follows the route that Odysseus sailed on his return to Ithaca after the Trojan War on a boat trip through the Greek islands – taking in such wonders as shipwrecks that date back thousands of years, a taste of local honey, thermal springs, an ancient theatre and a preserved Minoan city. But it is not all plain sailing – she narrowly avoids being caught up in a storm at sea on arrival in Crete and witnesses the huge refugee camp on Lesbos – a telling reminder of a modern human catastrophe.
However, it's an endearing labour of love, showcasing Bettany's passion and knowledge of Ancient Greek history, as well as her personality and humanity – watching her enjoy the hospitality of the locals and being irreverent with the boat crews will make you wish you were there!
Available on My5.
Around The World…And Back In Time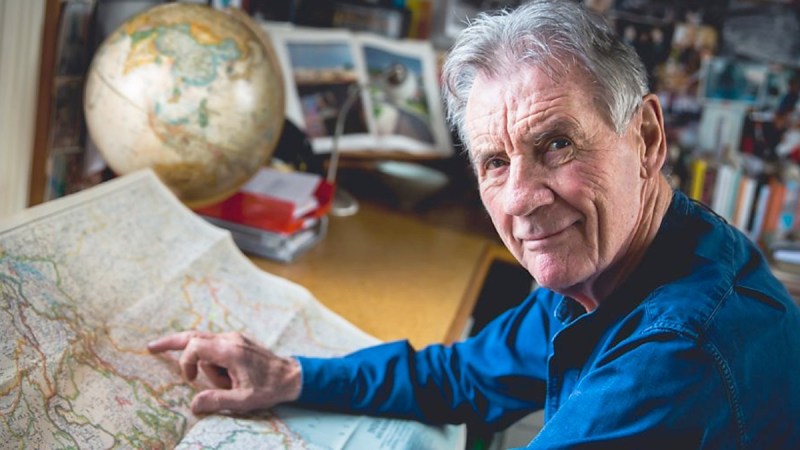 Monty Python comedian Michael Palin launched his travel career almost by accident when he accepted an offer to go around the world in 80 days, following the route in the Jules Verne novel. In the 2020 BBC series 'Michael Palin: Travels of a Lifetime', Michael revisits his classic journeys, starting with that first journey back in 1988. It shows how much the world has changed – and not just because of the pandemic – Dubai's skyscrapers were yet to be built, the Sony Walkman was a must-have gadget, and Margaret Thatcher was British Prime Minister.
We watch Michael as he reminisces about the places he visited and the people he met during his ambitious and epic journeys – Pole to Pole, Full Circle, across the Sahara Desert, and across and around the Himalaya. It is a personal journey for Michael too – from uptight Englishman to loosened up international traveller, and it feels incredibly poignant that he cannot revisit some of those places and people due to the current situation.
If this inspires you, you will be pleased to hear that Michael's original TV journeys are also available in full on the BBC iPlayer. What better way to escape the present by revisiting those epic journeys that capture a time, that although relatively recent, is now gone forever.
Available on BBC iPlayer.
Written exclusively for our company by Sally Wood