Review: Hilton Hotels
Disclosure: The links on this page are "Affiliate Links" and while these are shown at no costs to our viewers, they generate commissions for our website(s)
Hilton is a very well-known brand when it comes to hotels and has a generally good reputation among business men and women, families and holiday makers.

But does that reputation stack up? What should you expect from a Hilton? And how do these hotels compare to some of the other similar chains?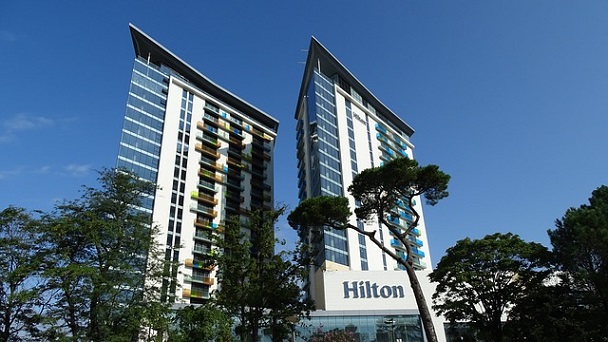 What to Expect When You Stay at the Hilton
When you stay at a Hilton Hotel, you can normally expect a relatively standardized experience. In this way, staying at one of these hotels is very much like drinking coffee at a Starbucks. You know what you're getting and shouldn't expect any surprises – good or bad.
Most Hilton hotels come with a slick and minimal interio r design. This isn't particularly characterful, granted, but it is nevertheless modern and pleasant. If you're looking for something quaint and authentic, then the Hilton isn't for you. But at the same time, it would be very hard to take offence at any of the décor seeing as none of it is too adventurous.
Brown is used in liberal doses, bedspreads are plain white and mood lighting is used liberally. This looks like something out of a catalogue and if you're looking for a comfortable place to stay while you're on business then it is exactly to spec. On the other hand though, the somewhat 'soulless' feel means that this isn't a spot to propose to your partner.
Some Hilton rooms also come with a dearth of floor space. This isn't going to be a big problem for anyone not staying long in the room but if you're planning on bringing your family and having some evenings in, you may want to pay for one of the bigger suits.
One area where Hilton's don't scrimp on size however is the beds – with doubles being very large. They're also generally comfortable and you should sleep well thanks to the light décor and clean, minimal vibe. That said, they do insist on tucking all the sheets in incredibly tightly (as is any hotel's prerogative)and they give you a few too many cushions than you'll know what to do with.
When comparing these rooms with those on offer from competitors, you can expect something similar to Park Plaza though slightly less premium feeling. On the other hand though, you should also expect a considerably nicer stay when comparing it to something like a Travel Lodge. 
Facilities
T he precise facilities on offer at a Hilton will vary to some extent depending on the precise place you are staying – just as room sizes and views can vary a bit too.
However, some basic amenities are generally on offer at most of their hotels. Most Hiltons for instance will have above-average coffee on offer, which is always a nice bonus in the room. This is normally coffee of the small 'pod' kind with a coffee machine, which is certainly nicer than using the powdered milk and measly few sachets you normally get.
WiFi is also usually available for free throughout the hotels, which is a useful feature for any business men or women travelling. To be fair though, this is pretty much standard these days in most hotels and the majority of us have tethering on our mobiles anyway. There's normally some sort of desk available in the room, though not in the more cramped ones. More impressive for businesses are printers, IT services, fax, express mail, audio and visual equipment rental and meeting rooms.
Hiltons also tend to come with fairly well kitted out gyms, which is great for those who travel a lot, who go on extended stays, or who are just so fanatical about fitness that they can't take a few days off. These gyms are normally in good condition and have the same slick feeling as the rooms with lots of very safe, pneumatic resistance machines and long lines of mirrors.
For families, most Hiltons offer children's menus, cribs and high chairs, while there is normally a nice bar and lounge to hang around in downstairs as well. You can also get room service, a safety deposit box and a laundry service. This all puts it ahead of somewhere like a Travel Lodge once again.
There's also breakfast at most Hiltons but this normally isn't particularly delicious or particularly cheap. Again, mileage may vary depending on the chef in your particular establishment, but don't come to the Hilton expecting a gourmet breakfast and don't expect it to really be worth the expense.
And speaking of expense, it's worth checking to see whether the parking is included at your Hilton. A lot of Hilton's charge for parking and this can sometimes be extortionate. This is particularly frustrating for business travelers and especially considering the hotel isn't that cheap to begin with.
Who is Hilton For?
The Hilton is in fact generally, not a very cheap place to stay. This makes it an interesting anomaly when comparing it to other hotels like any InterContinental Hotels.
For someone who is going to a wedding in some far flung corner of the country, or who is on a rare business trip, staying at the Hilton might seem like an unnecessary expense and luxury. That said though, someone looking for a truly indulgent experience on holiday will likely be more inclined to choose a Park Plaza or perhaps nice little B&B somewhere with great reviews.
It's most likely that Hilton will appeal to employers. Employers who don't want to be seen to send their staff to the most affordable hotel option available but who also like knowing precisely what they are getting for their money and being safe in the knowledge that their staff will be able to continue working late into the night.
None of this is to say that the Hilton is bad. It's just not particularly budget and nor is it particularly plush. Those that charge extra for parking are cheeky and they are hardly brimming with character. That said, if you're looking for something functional, you'll get a good night's sleep and the rooms are always very clean.